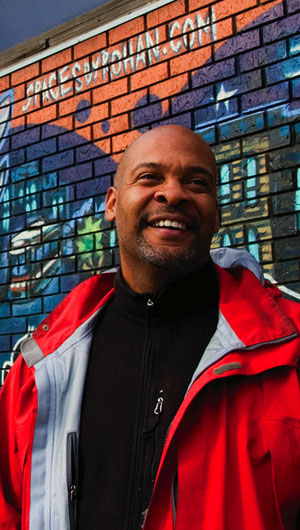 Quotes that inspire & inform us
"...WE PRACTICE THE 'TRIPLE BOTTOM LINE':
I. Honour our inner capitalist
II. Honour the family and the community
III. Honour the environment..." Majora Carter, Founder of the Sustainable South Bronx Company.
"...We value people and use things.
NOT the other way around." Author Unknown.
"...Something for Something..." ...from Latin "Quid Pro Quo"
"...Imagination is a valuable commodity and must be afforded accordingly." Prof. Dr. Peter Zeg, President of the International Council of Societies of Industrial Design (ICSID) 2007 opening address to ICSID conference on Sustainable Design and Housing at the Institute Without Boundaries (IWB)
About Us
Rohan Walters is the principal designer of Spaces By Rohan Inc., an independent design firm working with architects, engineers, interior designers, businesses, property managers, development investors and homeowners creatively solving their design needs since 1987. He holds a Bachelor of Architecture and a Bachelor of Environmental Studies from the University of Waterloo. Spaces By Rohan Inc. has also been responsible for the complete development, design and construction of three 'alternative' homes in the Toronto: 157 Coxwell Avenue (a.k.a. The Tower House), 1292 College Street (a.k.a. The Triangle House) and 1294 College Street (a.k.a. The Driveway House). These projects have been acknowledged in UTOPIA, Towards A New Toronto, Coach House Books as well as featured in the Globe and Mail, The Toronto Star, City TV, HGTV, Space Television Network and other media sources. These houses represent Rohan's ability to craft necessary, artistic, economically appropriate solutions in a positive and unexpected ways.
Rohan has taught at the Institute Without Boundaries (IWB), a cutting edge program dedicated to preparing architecture, design, engineering and other students to re-conceptualize the process of design at George Brown College. He has also been a guest lecturer at the Ontario College of Art and Design and the Ontario Society of Professional Engineers.
Rohan Walters is an Art Director with the Directors Guild of Canada and has worked on such films as Resident Evil and the hit T.V. series Suits.
Media coverage
Publication
Architect Chooses Home Over Parking Spot, Globe and Mail - Dave LaBlanc
Architectural Critic, Globe and Mail - Lisa Rochon
Toronto Star - Heather Greenwood Davis
Toronto Star - Bill Taylor
Toronto: The Unknown City - Howard Akler
A workman's notes - Evan Kroeker
Toronto Star Report
Christmas Edition Article
Green Enterprises Toronto Article
University of Toronto Article
by Rohan Walters
Bio Toilet Feasibility Study
The Micro House
the Web Blog
Architects as Developers
Granny Flats
The 157 Coxwell Avenue 1, 2, 3, 4
The 1292 College Street 1, 2, 3, 4
The Black History Month Entry