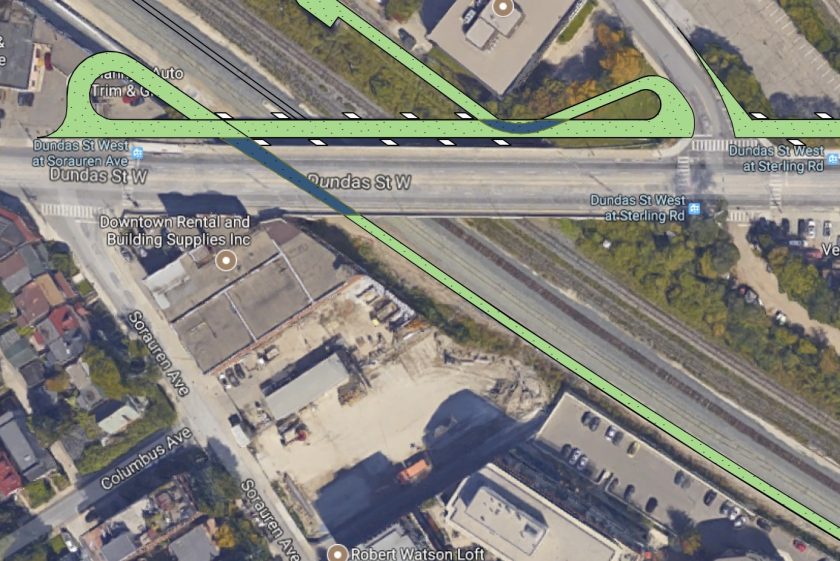 A Sweeter Bike Path @ Toronto's Junction Triangle
Happy Toronto Day! BTW that is every day for Spaces By Rohan Inc.
As one of the very rare Black-owned and operated building design firms, small or large in Toronto, Canada, I actively acknowledge the contributions of good design from wherever and whatever culture it may come from. Why the racial emphasis you may ask? Because as a soul in the body of a Black male who is a demonstratively creative, capable, and a talented entrepreneur I have often not been given the same opportunities for success, mediocracy or failure as my white counterparts. That is the reality of our colonialist society. Nevertheless, I will contribute to the change that strives to shift us beyond this present colonialist situation. Love in action is the mantra that fuels my world.
AS SUCH …
This soul is without race, gender or sexual orientation; this body that I inhabit in this lifetime is, for me, an opportunity to demonstrate what awakened and sensitive participation looks like. I endeavor to be an example of that holistic and inclusive state which is respectful and alive to other natures. One need only observe my clientele, my professional associates, my consultants, my friends, my lovers, my actions, and my work to provide verification of these my goals.
If you decide to investigate me and my firm further you will discover that my clients, consultants, and colleagues are thoughtful, wise risk takers that come from many sectors such as European, Chinese, Lesbian, Gay, Straight, Atheist, Jewish, Christian, Liberal, Conservative and other wonderful real people; not perfect but perfectly beautiful in many and unseen ways. What do these people have in common? They recognize and want to work with a capable, considerate, kind, monetarily fluent, talented, imaginative, experienced, responsible and inclusive person such as myself.
I'm known for seeing a feast of delicious, beneficial, financially viable and beautiful outcomes where most others see only difficulty or something undesirable and hard to figure out creatively. My transformations have been done successfully with my own money as well as other people's money. A fact of my projects.
It's not how much you design or how much one gets built, rather it is how well we design and how well we build so the four criteria of success are met: 1) good for the community, 2) good for the client/corporation, 3) good for the environment, and 4) beautiful … contemporary or otherwise.
Anyway, to bring this back to Happy Toronto Day (a.k.a. Hogtown Day), I'd like to add my voice to the developing bicycle path and road network happening here. Some of you may know I ride a bicycle and have for over four decades.
My neighborhood is on the border between 'Little Portugal' and 'The Junction Triangle' in the West end of Hogtown. We have a bike path called the 'West Toronto Rail Path' as it is affectionately called so because it parallels, for part of its route, a set of existing railway tracks.
Recently I was inspired while glancing at one of the several architectural webzines and came across several built bridge designs for bicycle and pedestrian bridges. Architects from abroad as it turns out produced these wonderful creations. I'll attach pictures of their work by name and photographer so you can research it for yourself. In reaction to these pictures, I was inspired to sketch a resolution in plan and an isometric sketch as to how Hogtown might just want to enhance our rail path at Dundas Street West and Sterling Avenue. The presumption is to imagine these foreign architectural bridges here. This enhancement could take place by getting native Hogtown talent to design, engineer and build it local beautiful solutions. Safe bicycle crossing that enhances our network. … Perhaps – if we are so inclined – at the very least Hogtown could hire these architects and engineers, Arhitektura d.o.o., Tetsuo Kondo Architects, and or Richard Meier and Partners, to joint venture with a Toronto firm to expedite a beautiful and safe bicycle bridge and path sooner than later.
Now please keep in mind that MOCA (Museum of Contemporary Art) on Sterling Avenue is adjacent the Rail Trail and is due to open in a year or two. Can you imagine the symbiotic energy of these design forces in our city? Our West End? Personally, I simply begin to beam with energy. Read good design is exhilarating and I don't think I'm alone here.
Anyway here are my sketches followed by the pictures from those architects that inspired me.
I hope they inspire you to produce your own solutions. Please take a risk! We will all benefit one way or another!
Cheers.