Lane Home – Part 1: The Seeds of Evolution and Creativity
Architectural Education in Ontario
,
Art
,
Art & Its Influence on the Design or Designer
,
Creative
,
Design
,
General Comment on Issues of Significance
,
Lane Homes
,
Laneway Housing / Granny Flats
,
Technology
,
Toronto Design & Architecture
,
Urban Issues
What Lane Homes or Granny Flats really mean for our City of Toronto? … And why limit it to Toronto? I'm not really limiting this discussion to Toronto but if I involve other North American cities some people will be deflected from what I think are the pertinent issues.
This Lane Home discussion will be an ongoing series.
PART 1: The Seeds of Evolution and Creativity
It was approximately 2003 and I was known, even then, for alternate design solutions in the west end of Toronto. An owner of two semi-detached homes next to Trinity Bellwoods Park gave me call to propose a lane home that would replace two derelict garages at the rear of his property. Long story short, I had an unofficial meeting with the then city councillor Adam Giambrone. I needed to get his tacit support to help speak with the community and at the Committee of Adjustment if we got that far. He was cautious but unofficially supportive.
The key attributes: 1) No severance, 2) The services (water, sewer, gas, hydro) will run through the existing homes fronting on Dundas Street, 3) the replacement of two derelict garages, 4) the addition of 4 working parking spaces by re-landscaping part of the backyard, and 5) The addition of 'rentable', 'desirable', small scale studio apartment overlooking the lane and the park (see illustrations). In other words this lane home added necessary housing that maintains the character of the neighbourhood without adding service infrastructure by tying into the existing site and city service infrastructure. By replacing and or upgrading existing garages to be able to do more and accommodate additional uses. A win win win all around.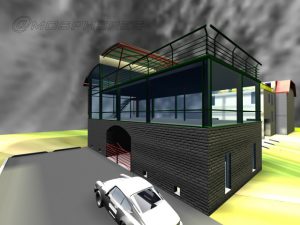 Lane view 2
It's now 2017 and the approach above is now in vogue and that is a great great thing thanks to some planners, architects and some others . Check out Lanescape.ca
The proposal did not go ahead at that time as the owner did not want to afford the initial design and administrative fees if he could not be 'guaranteed' success. Sadly the project simply went into my portfolio and the back burner of my office – WAITING 🙂