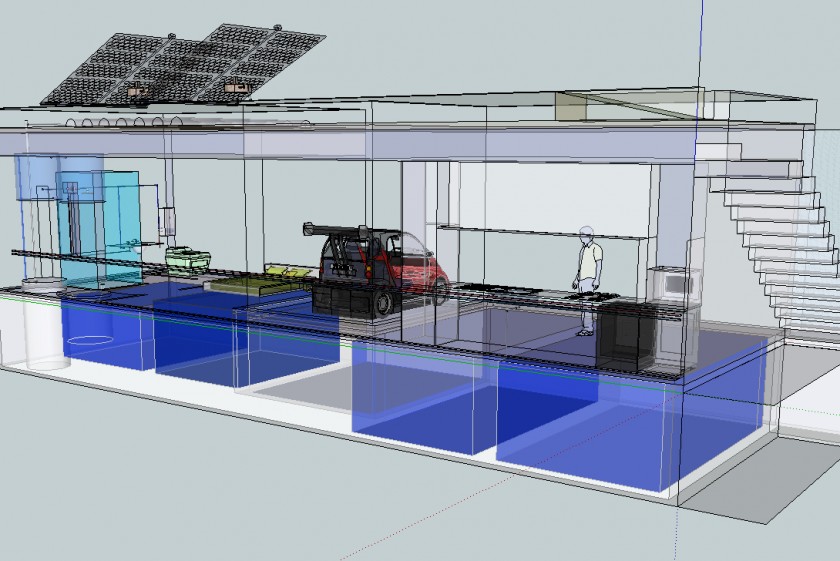 Is Architecture Dead? … in Toronto … Part 7
Is Architecture Dead? … in Toronto … Part 7
About 3 or 4 years ago, I had the privilege of introducing this project to several building code city engineers for their opinions and to discuss the possibility of this Water House proposal as it related to building code. By and large they were supportive because the science of its concept was sound. Similarly, public works and emergency services were generally supportive. I had dealings with the latter on two groups on very similar projects and this house was even better situated contextually for those departments.
So the very very very very sad news: Toronto Planning. I deliberately brought the client (a lawyer) to the meeting. I prepared him prior to the meeting that Toronto Planning and Ontario Planning, will not support as-of-right, house-in-front-of-house, house-behind-a-house, rear or front detached garage – conversion to a habitable space, granny flight, lane home or any detached habitable structure that could be used as a separate house on the same property under present residential planning guidelines and official plans. Furthermore, planners, even if the proposal will assist or promote 'aging-in-place', accommodations for assisted/independent living for relatives or others with a mental or physical impairment, or simple shared land in a responsible and reasonable way, the preservation of resources such as but not limited to water and sewer waste and the like; planning will not support any such proposal at this time – AS-OF-RIGHT.
The client (a white lawyer – it's relevant) began to turn visibly red with upset. I'll paraphrase him as best I can. He informed the planner that there are principles in law that the planners may have breached in several areas as it pertains to the law's notion of the public good, public health and other areas [I cannot remember the legal terminology] … And what was intended with regards to some constitutional interpretations may apply here and the possible breach of those portions of the constitution.  He then became quiet and took a breath; we looked at each other and left the room.
His life at the time was too too busy to begin a pro-bono against planning at the time through the district court and maybe further. In addition, his family circumstances would not allow any spare time in his life for what could have been a potentially huge case against planning in this province.
Even though he could have gone to the Ontario Municipal Board (OMB) and in all likelihood achieved a favourable decision, he said to me this is a matter of principle and that the planning law must be amended or portions struck down if it is impeding good and sensible design alternatives that address present sociological and demographic trends. In other words Water Houses, Granny Flats, Lane Homes and other yet to be designed solutions that only the wealthy and powerful who can afford all the 'right' consultants at the OMB is not the way to go. In essence these kinds of solutions such as the Water House and Granny flats, Lane homes, and the like must become as-of-right.
He sold the property a few weeks later in disgust. We were so very close to a potentially massive change to planning in this province and this city.
So … Is Architecture Dead? … In Toronto …
I have 'kinda' answered this for myself and I cannot in good consciousness tell someone what to think or how to think – I do occasionally, I'm human and a parent. Rather I find it better to share, to debate, to dialogue, to critically reflect – openly, to contemplate – openly. There is no end. However my work (process and goal) at any given time will reflect, to some degree my state of soul and mind. My state of soul and mind still does not give me the right to tell another how or what to think with regard to the state of good design – the foil, the metaphor of architecture – in this city. People, groups, institutions and corporations are responsible for their own thoughts. … And they MUST take responsibility for their outcomes, like it or not.
The Water House is about hope. Its process is about adaptation, good science, decent but not spectacular design, sociological change, present and future demographic realities, new economies and modest neighbourhood inclusion.
This will end the series – Is Architecture Dead? … In Toronto. [for now ;)]
___________________________________________________
Toronto Explores Water Recycling in Granny Flat Lane-House.
A visionary Toronto lawyer approached alternative building designer Rohan Walters to design a "garage for people instead of cars" right in the heart of the city. The lot; a four-car parking space in a lane filled with garages. Rohan persuaded the client to go further and build a Granny Flat Lane House that is independent of the city water and sewer supply, also know as 'OFF-THE-GRID'. Further the house would compost its own toilet waste, have a rooftop garden that acts as a rainwater collector and pre-filter. Additionally the Granny Flat would receive much of its electricity through rooftop solar panels.
Rohan through his design firm, Spaces By Rohan Inc., is known for their strategic collaborations. On this project Rohan collaborated with Princeton educated water engineer Andrew Hellebust. Together they crafted the water systems to store rainwater, filter it for safe drinking and produce a parallel grey water management system for other domestic needs. Additionally, systems such as the Water Mill that produce potable water by removing humidity from the air; and Xero Flor Systems green roof suppliers of the 2010 Olympic facilities offered accessible expertise and technologies to this modest yet provocative 740 square foot (69 square meters) 'Granny Flat/Lane House'.
Spaces By Rohan Inc. has introduced this Granny Flat/Water house to the Toronto planning and mechanical engineering department officials as well as the local community. The reactions have ranged from enthusiastic support to guarded skepticism. It is estimated that this water system would cost less than HALF what the City of Toronto charges to bring water and sewer to this lane site. Cities cannot afford to keep expanding our water supply and sewer treatment plants at the currant rate as populations increase. People and our environment cannot afford it. Better building and water systems such as this Granny Flat Lane House example a better use of land and water. The benefit to people, the environment and economy are self-evident.
Spaces By Rohan Inc. is looking for other progressive localities to apply these advanced design principles. He believes cities with visionary mayors will lead the way. Places such as North Vancouver (Mayor Darrell Mussatto), San Francisco (Mayor Gavin Newsom) and Windsor, Ontario (Mayor Eddie Francis) are inviting necessary and visionary initiatives. This 'OFF-THE-GRID' Granny Flat Lane Home might be part of such initiatives.