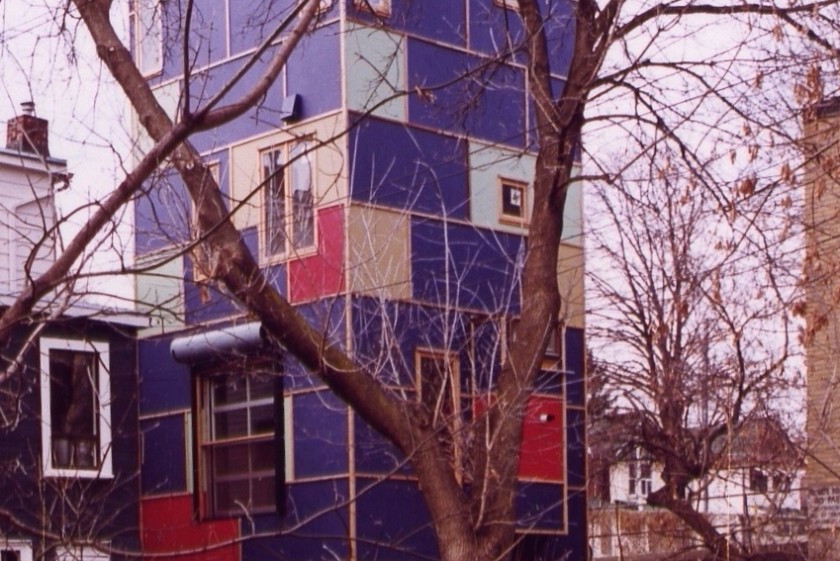 … And before 'The Driveway House' was the house on stilts, 157 Coxwell Ave. – A.K.A. 'The Lego House'
The evolution of the driveway house is part of my personal journey of hope. By hope I mean; finding or making hope in unexpected places, in unexpected ways while working with the skills and sensibilities of the people of the community in which I gratefully live.
Now some of you think that would be easy and I wish it were, however my karma has been such that I make my own luck and opportunity as luck and opportunity are not given to me. Rather luck and opportunities are earned by me depending on the overall forces at hand. [yes deliberately nebulous]
Still I am inextricably linked to those around me in life and in business in so many ways I cannot count. My lust for creativity while trying to be a responsible citizen to my family, my neighbours, to god are constantly in my sights at every waking moment. Sometimes I just want to run, but where. Where would I run? Would I run to that place where I had no responsibilities, no worries, no injuries, no fear of any sort? That place does not exist on earth except in my imagination. There, in that particular place of imagining, is no challenge, no direction except for self-indulgence and idiosyncrasy.
'The Driveway House' [1294 College Street, Toronto] and 'The House on Stilts' [157 Coxwell Ave., Toronto] and 'the Triangle House' [1292 College Street, Toronto] were all created under duress. Created as a way flowering, birthing, shining, and breathing under the weight of restrictive circumstances. Hoping to find hope or make hope.
Over time to keep my spirits up I:
• Contemplate in silence – being still.
• Look at and find art – There are many places in Nottingham a.k.a. Toronto to do this. We are blessed. Although looking at art first hand is always best, sometimes the Internet has to suffice. There is some kickass stuff out there. www.juxtapoz.com is just one of many good sites for avant-garde expression.
• Talk with Artists and Business people alike who seem engaged.
• Check out favourite architecture websites. I can name a few: www.architecturelover.com , www.archdaily.com , www.architizer.com , are the ones I use the most. They often cross-reference others as well.
• Long walks are really good. If those walks can involve back alleys and graffiti that's just a bonus. The energy, story and creativity emitted from good graffiti never fails to amaze and enrich me.
• And believe it or not my favourite design and architecture in the past two years has been the discovery of Cape Town South Africa. In the past 15 years Japan and Spain.
Apartheid era design training for the white privileged class combined with craftsmanship of the black under class is a guilty phenomenon whose work nevertheless has outstanding modern creations. I don't approve of apartheid or the uneven playing field it has created. I only hope the native Black South Africans can take advantage of the spirit of good design and advance it further as high-level designers in their own right.
Anyway, here are some professional photographs of 'the House on Stilts' a.k.a. 'The Lego House', a.k.a. 157 Coxwell Ave. in Toronto. The photographer's name is Dave Rempel
Cheers until next week.